Last year, a colleague opened up to me about her plans to take her master's degree abroad, preferably in the United States or in Australia. I'd like to think I understood what she's going through, due to the following reasons:
I'm taking up my master's degree.
I'm interested in studying abroad, even just a short course (on a scholarship, that is).
I am a nerd. And I love to learn.
I feel like the most I was able to provide were the following: a listening ear and words of encouragement.
From what I remember in our talk, she was greatly overwhelmed with the requirements, both for the universities and student visas. She also mentioned having to take tests for admission to her university of choice, as well as the International English Language Testing System (IELTS) test. We haven't talked in ages, so I don't know if she pursued her plans/is still planning to pursue education overseas.
That talk suddenly flashed in my mind when I found out about the 2nd World Education Exhibition to be held on November 15 in Cebu and November 16-17 in Manila. Organized by student placement firm IDP Philippines, students can inquire directly with school representatives in the said exhibit for opportunities to study in Australia, New Zealand, Canada, USA, and the United Kingdom.
This event gives them the chance to ask all they want to know, as well as for them to find out more about their school/program of choice. Apart from that, there will also be free seminars and consultations to guide students in their application processes and visa requirements.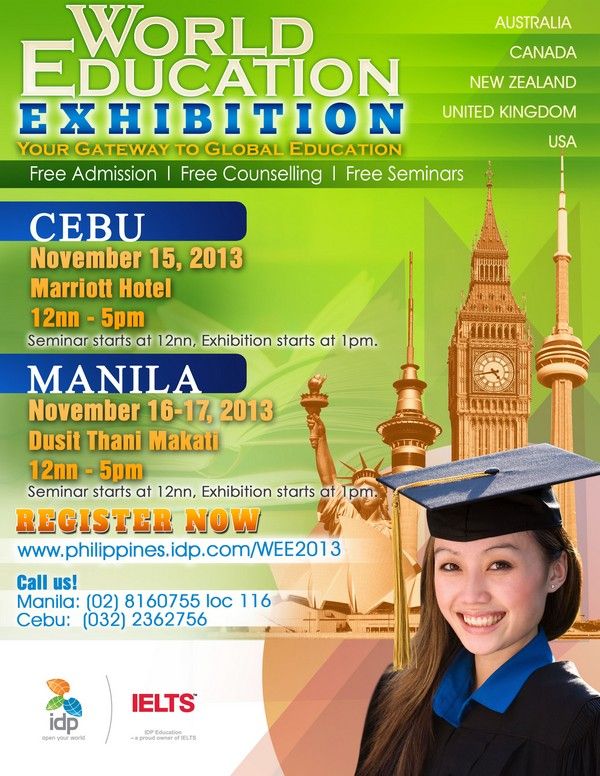 CEBU
Date: November 15, 2013
Time: 12nn – 5pm
Venue: Marriott Hotel
MANILA
Date: November 16-17, 2013
Time: 12nn – 5pm
Venue: Dusit Thani Hotel, Makati
If you're like my colleague who wants to study abroad, take note of the dates above and visit the venues nearest you. You can also register by clicking this link or by calling (02) 816-07-55 loc 116. Wishing you good luck on your quest to learn!:)
RELATED POSTS: