Ximending is Taiwan's answer to Harajuku and/or Shibuya of Japan. The young ones flock the area to shop and hang out, mostly during nighttime, similar to Seoul's Myeongdong. Okay, that was confusing for a bit, haha.
Early mornings in Ximending look like this.
Eslite is a popular chain of bookstores/retail shops in Taiwan. There are three branches of Eslite in Ximending alone, but only one is an actual bookstore, the rest are commercial spaces that bear the Eslite name. The branch near Modern Toilet houses the bookstore, while the one in Amba hotel with the Starbucks and the other branch near the Taipei Metro Ximen station has various brands under one roof.
And just to prove my point that Ximending is just like Myeongdong…
It's a shopping haven, so be prepared to spend like crazy on apparel, food, gadgets and more! I wouldn't be surprised if I find foam by mail beds for pets in stores, as plenty of locals have pets that they stroll with.
This is the actual pedestrian zone in Ximending.
What's a visit to Taiwan without drinking milk tea? I Google-d for the best milk tea from this country and most blogs point to 50 Lan. I can't read Chinese so I saved their logo on my phone. Design saves the day! Haha.
Let's just say I wasn't disappointed. In fact, I was relieved that the milk tea in Taiwan tastes the same. Quality is at par with our Chatime and Gong Cha franchises.
I also spent some Taiwan dollars on Subway sandwiches and got to talk to one of the managers! She says she likes our Jollibee "pasta" (spaghetti). I couldn't be prouder of our "langhap sarap" fastfood chain! Iba talaga ang Jollibee! <3 [caption id="" align="aligncenter" width="350"]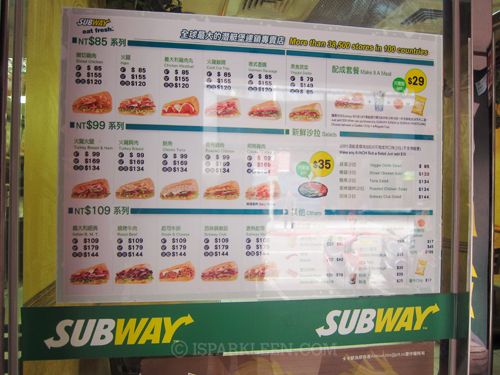 Subway Taiwan's offerings[/caption]
I still have a couple more posts on Taiwan, so please bear with me for being so meticulous with how I break down my travel posts.
P.S. Call me OA but I ate Jolly Spaghetti when I arrived in Manila because of that interesting chit-chat with a foreigner.
RELATED POSTS: