Have you ever thought of how many seconds, minutes, hours, even days you waste everyday?
Sure, you can use the "extra time" waiting for reading or looking up something on the Internet. What if you're stuck waiting in a place where there's nothing else to do? I did a quick calculation of the minutes I waste while waiting for trains to arrive and it totaled to almost a day wasted in a month.
Today, I waited for 30 minutes at the platform. It was a scene straight out of a Mr. Bean episode: a very long line PLUS a pregnant woman and a senior citizen making a beeline one after the other towards the front. I know it's courtesy to let them cut in line, but isn't it too ironic that they have to be in succession? It's an episode worthy of a Mr. Bean appearance! And by the time I was in front of the queue, the next train that arrived didn't unload passengers. It was ridiculously funny.
So here's ~*word art*~ I made for all the other people out there who waste a significant part of their day to daily commute (and maybe even traffic).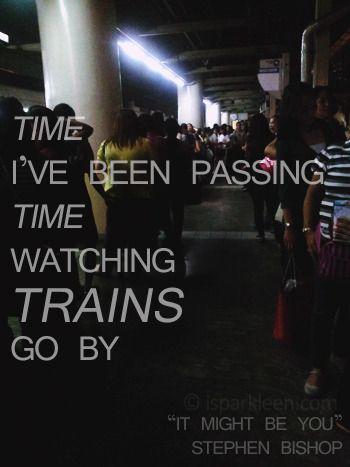 "Time, I've been passing time watching trains go by"
RELATED POSTS: