You know you have enjoyed your stay in a country when you feel like returning the soonest time possible. That is exactly how I felt about Korea which I visited early this year. It was so surreal since I didn't expect that I would be able to set foot in Korea so soon. I hope to visit Korea again with the Asian on Air Program by Buzz Korea, Korea Tourism Organization and Korean Air!
A short backgrounder: Korea has always been on my list of dream destinations, and it suddenly shot up to the top of my list last year, as I came across so many photo albums of them enjoying Korean culture and tourist spots. I lost count of the number of friends on my list who were able to visit Korea, some even twice, which made me all the more curious and excited.
I guess I was subconsciously preparing for my dream trip because I dyed my hair on a whim a la Taeyeon of Girls' Generation in "The Boys"/Krystal of f(x) in "Nu Abo") early this year. My hair must have confused people because I was mistaken as a Korean a couple of times.
Cutting to the chase, there is no way I am letting this opportunity to travel to Korea pass me by. I want to top my previous trip off by returning the same year! Given the chance to return to Korea, here are some of the things I want to do (again) on my second visit:
Ride the Seoul Metro… again and again. I love how efficient the train system is. I still have T-Money credits!
Return to the N Seoul Tower, specifically the Locks of Love. It's because of this.
So much for bringing a lock and not a pen! I only realized my mistake when we were already at the Locks of Love area and I couldn't borrow a pen to correct it. I promised myself I'd go back and edit it. I took so many photos of our family lock, from closeup to wide so that I can still find it in the future.
Eat street food. I really liked the potatoes on a stick. And the skewered chicken at Dongdaemun, near Migliore.
Eat dak galbi, bibimbap, chapchae and samgyupsal, among others! Just the thought makes me salivate.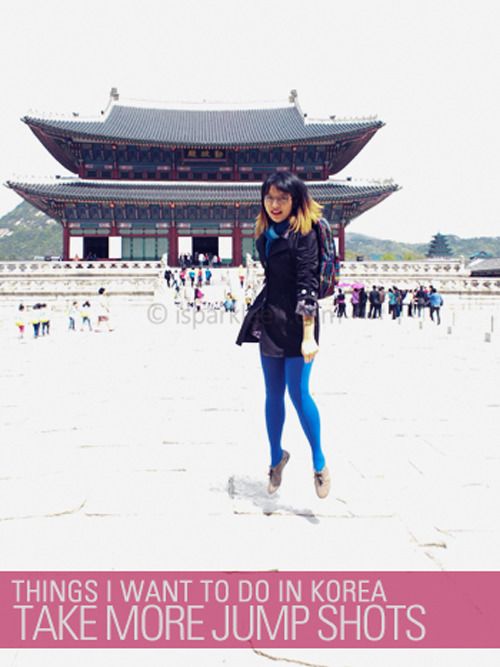 Take effortless-looking jumping shots in more tourists spots! The one above was taken at Gyeongbokgung Palace. I have another "levitating" shot at Nami Island. Perhaps a jump shot wearing a hanbok?
My first trip definitely left me awed and inspired. As someone who likes organizing, planning and efficiency, Korea definitely impressed me. It seems ingrained in their culture to be very orderly. They also seem to value time a lot because they don't waste a second (ride the Seoul Metro and see what I mean). Also impressive were the senior citizens who we got to ride with on trains. They can climb stairs almost as fast as the young ones! It must be all the walking and also the vegetables present in traditional Korean cuisine. And oh, speaking of efficiency, they've got the FASTEST Internet connection ever. You could say I was mind blown when I tried the computer at the hotel. It loads pages instantly!
Koreans also seem to have a high regard for creativity as evidenced by the locals' fashion (Koreans look so fab and stylish even though they mostly wear neutrals!) and the the shopping areas and stores in different places. It still amazes me up to this day on how they were able to integrate design, history and culture in the city without one or the other looking like an eyesore. I can still recall the disbelief I felt when we exited the Gyeongbokgung Palace and saw buses and cars in city traffic. These "connections" from one tourist spot to another might be one of the reasons why tourism in Korea is booming in the past few years.
Be that as it may, our six day tour in the Land of the Morning Calm was not enough. We had a pretty reasonable itinerary but all the walking was new to most of us, so we ended up giving up in the evening and opting to stroll in nearby Myeongdong. Anyway, here's a list of places I'd love to visit in Korea (that I've never done before!):
Bukchon Hanok village. We included that in our itinerary but we did not have time.
Samcheongdong. Wasn't able to squeeze in a visit here.
Samsung d'Light. I am a proud Samsung user and it would be absolutely cool to have a glimpse of their latest innovations.
Dongdaemun and Namdaemun. I want to check out the malls and markets I missed. We didn't have time to visit COEX, Shinsegae, Doota, too.
Apgujeong. We didn't have enough time after an amusement park visit then.
Hongdae. Same reason.
I also want to check out Cheonggyecheon Stream at night.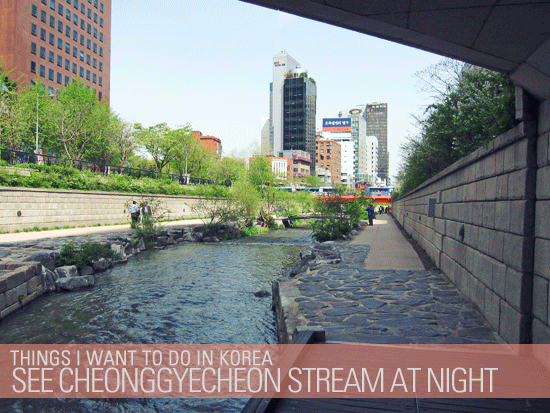 Of course I want to watch a KPop performance! I wanna see how they mount their live performances and how artists and the audience are in Korea. Used to intern for a TV network years ago, so this explicably fascinates me.
In relation to that, I want to bump into a Korean celebrity (and have pictures taken!)! I was desperately on the lookout for Jo In Sung last time but didn't spot him!
And Lee Min Ho too! I also wanna meet Ha Ji Won, Lee Chae Rin of 2NE1, Kim Taeyeon and Seohyun of Girls' Generation, Park Gyuri and Kang Jiyoung of KARA and a whole lot more! These girls are my style icons.
Those are just a few of my to-dos on top of my head; I'm sure there are far more plenty things to discover in Korea—that's what next trips are for.
Here's to hoping that my next trip will be sooner than I think—it's all in the hands of the judges of the Asian on Air Program now. Check out these sites to find out more about this event!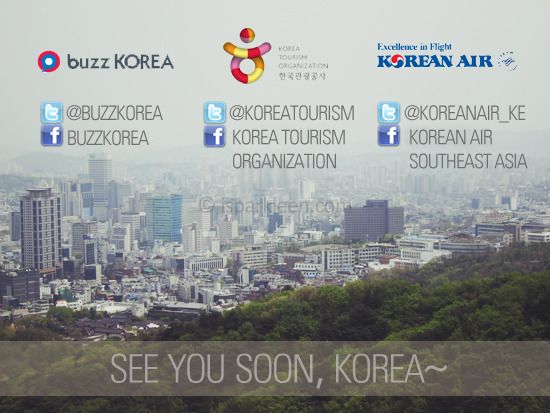 You can also be in the loop regarding this event on my Facebook and Twitter accounts.
See you soon, Korea!
All photos are taken by me during my trip last April-May of this year.
Logos are of the respective owners (KTO).
RELATED POSTS: