The techie in me couldn't be any happier for Shane Bennett, a guy who got himself a customized Samsung GALAXY S III for FREE.
A quick backgrounder: In May of this year, Shane Bennett sent his message to Samsung Canada after the Samsung GALAXY S III was unveiled. While it was stated in the reply that they couldn't give it to him, Shane eventually received the phone as a gift months after the witty exchange became viral. Well, it's no surprise considering Samsung's response made for good PR!
This gives me a crazy idea since the Korean brand recently "unboxed" Samsung Galaxy Note II. I gotta seize this big idea NOW. If I were to write something like Shane's post, it would be like this: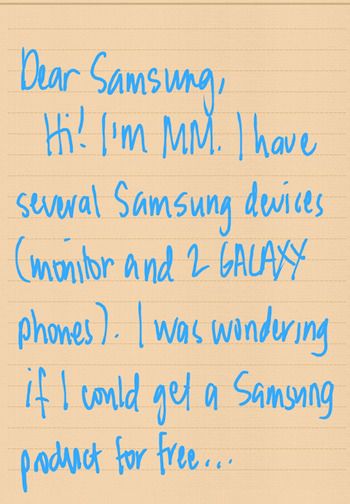 My handwriting looks like a font, so here's a readable version of that:
Hi! I'm MM. I have several Samsung devices (monitor and 2 GALAXY phones). I was just wondering if I could get a Samsung for free… I'm eyeing the Series 9 laptop

I drew an Android just for you.

-MM
mm [at] isparkleen.com
(just in case!)
Isn't my Android drawing adorable? This deserves even an extra S-Pen in white with a pen case to boot! If ever you decide to send me a Samsung device, perhaps you could just consider using this portrait done on S Memo by Kajo Baldisimo for your Pic-to-Comic promo months ago for the wrap?
Last paragraph of that post—dreams do come true! Can this happen, too? XD
RELATED POSTS: